Well, we have a set of results from our Bondage Wrestling Newcomer filming day from this past Sunday!
Mahea, Crazy Azy, and Hanz all arrived ready to go, in good spirits, and eager to show their stuff in the competitive rope-tie arena.
We kicked off with Mahea vs Crazy Azy. Both ladies were very new to the art of bondage wrestling, as I mentioned in my previous entry here, but that didn't stop them from going for the gold and working hard. I talk more about this match below, along with its result, so I won't get into re-capping here.
Once we got our non-winner un-hogtied and de-gagged, and after the ladies gave us their candid post-match reactions and comments, we then moved on the the next: Mahea vs Hanz.
Hanz was really fired up for this one and he really had his eyes on the prize: his very first bondage wrestling victory. Mahea had to fend off and stand up to his very driven forward momentum.
And the result, well, you can see that below too. But here's a hint: hogtie and gag were in effect once again!
Lovely candid commentary once again followed, which I've taken to capturing on camera while the non-winner is being untied. That's always a great way to get the real gut response: just get that camera rolling again as soon as possible... the first words they say afterwards are always the best true impressions.
Anyway, I don't want to take up too much space with lead-up, so here are the full descriptions and official write-ups!
1. Mahea vs Crazy Azy
Female Bondage Wrestling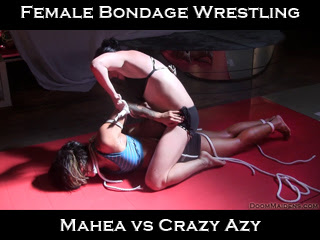 Mahea and Azy are bondage wrestling newbies, each looking earn their very first bondage wrestling victory! Last year, Mahea got her first taste of bondage wrestling in a match against rope-expert VeVe. Needless to say, that ended with Mahea quickly and securely hogtied. But now Mahea faces off against Crazy Azy, an opponent who has never competitively bondage wrestled before. Azy, however, did have a recent rope-tie tutorial with VeVe. But is one lesson enough to get the job done under pressure?
The ladies grab their ropes and hit the mats. Both are very well matched as wrestlers, but Azy definitely proves to be the aggressor when it comes to working the ropes. She works her ropes around Mahea whenever she can, and she has several close exchanges, but Mahea fights out of each lassoing attempt, returning them both to neutral again and again.
Finally, with a tricky flick of the wrist, Azy catches both of Mahea's feet and binds them fast. Before Mahea has a chance to counter attack, Azy seizes the advantage and binds Mahea's elbows behind her back (not touching). With victory in sight, the excited Azy binds Mahea's wrists and then finishes her off with a hogtie. Azy is overjoyed with her hogtied finish, gloating playfully, admiring her work, and taunting her opponent. The two banter until Azy gags the disgruntled Mahea with a duct tape gag. Happily triumphant, Azy celebrates with a victory pose!
Following her match against Azy, Mahea gears up for her second bondage challenge of the day. Now she faces off against Hanz, who is also looking to gain his first bondage wrestling victory. Hanz has had previous competitive bondage matches before, but all prior times he was defeated (at the hands of VeVe). However, in addition to his past experience, he's now had the benefit of a recent bondage tutorial with VeVe. Hanz is motivated and hungry for his first win, and he's got it in for Mahea...
Right from the start, Hanz puts his game plan into effect and attacks Mahea's ankles. Mahea works to resist but finds herself quite stuck with Hanz's long legs wrapped around her. Hanz presses his advantage, but Mahea refuses to go down easily. She kicks and squiggles out of his tie attempts until he finally successfully binds her legs and out-muscles her onto the mats. Mahea continues to squiggle and resist, but Hanz stays on top and prevents her from untying his work.
Hanz finally binds Mahea's upper arms and wrists behind her back and pulls her into a hogtie. Mahea is disgruntled to be hogtied yet again today (how does this keep happening?!) and complains when Hanz attempts a victory pose. So, to keep her from spoiling his celebration, he very gladly duct tape gags her! Now quite satisfied, Hanz savors his triumph and proudly takes his victory pose.